Maybe this should go for
Wisdom Wednesday
, but, I just love giving unsolicited advise. LOL No, really, the intent of my post today is to copy my new friend
Nettie
who posted in her blog today about the
Tea Party
she threw for her daughters birthday. I was thrilled to see that she made the same cake that I did when K turned 4!
Anyhow, I've always made a special cake for the kids for their birthday. It's my thing. I've made license plates for the big 16, Tweety Bird, numbers, just whatever came to mind. And for all the creativity, they weren't difficult or spectacular. But then I made a Barbie cake, and my adventure into 3-D cakes began. Now I've been faced with the pressure of coming up with better and better cakes each year! I will show you what I mean:
Here's the cake that came after Barbie:
Next came the Dragon Cake:
Then I was asked to make a wedding cake: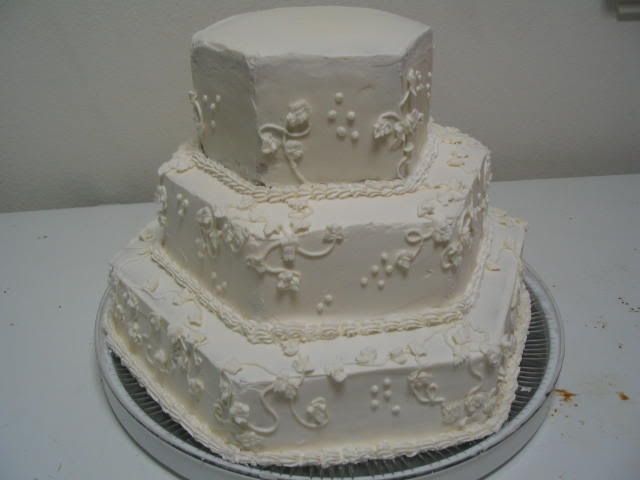 Who can forget the Pink Mini Cooper?
I can't find what I did with the photo's, but there was also a ladybug cake in there somewhere. Black and Red frosting is cute, but it's also a clean up nightmare.
And this last year, B wanted a Dragon Castle Cake. I totally cheated on this one! LOL
I really love Nettie's idea about only having "friend" parties every other year. I knew this last year as I was sticking Imaginext peices to the Dragon Castle cake that I was approaching burn out level. The wedding, car and castle cake were all within the space of a month and a half. Given that each cake takes most of a week for me to complete, I was beginning to feel like an indentured servant. Slave to the cake. And we've already established that I have issues with keeping the house up. Adding cake baking, making and decorating to the fray doesn't do that situation any favors.
I have people telling me all the time that I should sell my cakes. To them I say "NOT"! It's something I enjoy doing (most of the time) and the surest way to kill a hobby is to try and turn it into profit. Anyhow, my mouth preceded my brain again, and I offered to make my sister's wedding cake. So now the question becomes: The last wedding cake took 11 batches of batter, 4 batches of custard and 3 batches of butter cream; What can I do to top that?! :O)